We love and highly value children. It is one of our top priorities to offer a safe and enjoyable environment for learning for all of our children and their families.

Adventure awaits in our Sunday Children's Church for kids K – 5th grade.
Under the direction of a Children's Church director who is excited to bring new opportunities for kids to experience the Bible, your child will learn about God's Word and how it applies to real life.
birth – 3 years old during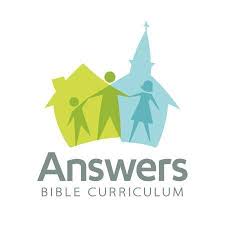 Sunday School for all ages
From Labor Day to Memorial Day
10:00-10:15 Coffee and cookies fellowship time
10:15-11:00 Sunday School
0-2

in the nursery adjacent to the adult class
Wednesdays
after school until 5:00 pm
Kindergarten through 5th grade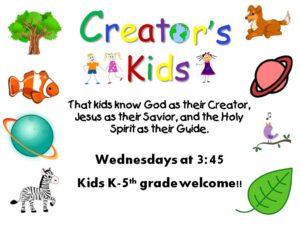 "That kids know God as their Creator, Jesus as their Savior, and the Holy Spirit as their Guide."
Welcome to Creator's Kids, where we will explore God's amazing world through nature and science! After your child is escorted from the New Underwood School to Creator's Kids by a CK staff member, your child will enjoy a snack, music, and hands-on learning that will demonstrate God's character through His creation. Come join us- parents are welcome, too!